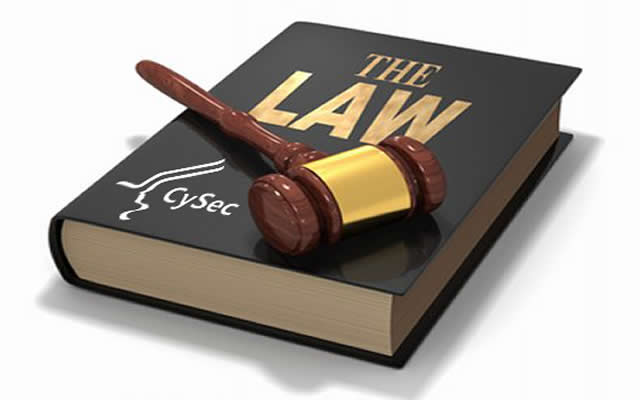 Amidst the recent clampdown of many regulators across the globe on the binary options industry and primarily on binary options brokers, the watchdog in one of the most popular hubs for licensing such brokers, namely the Cyprus Securities and Exchange Commission (CySEC) continues its attempts to clear its name and its jurisdiction of any wrong-doing and has thus decided to issue an extensive list which includes over 100 different forex and binary options websites that are not authorized to provide financial services in or from Cyprus, since they are not owned or operated by CySEC-regulated entities.
Through its relevant announcement, CySEC urges investors and the general public to be duly cautious when dealing with any of the firms listed on this warning list and also advises that each investor, prior to trading, consults the regulator's website to check the status of a broker through the
updated register of all authorized Cyprus Investment Firms (CIFs).
Entities that are not licensed by the Cypriot regulator are forbidden from targeting Cypriot citizens, while the entities on the list do not have any license from CySEC, although some may have falsely claimed or implied so at some point in time.
For ease of reference, below is the full list of domain names that CySEC has cautioned against:
 app.qbitsmegaprofit.co
 autotradingbinary.com
 binaryswiss.com
 bitra nsax.com
 bloombex-options.com
 fmtrader.com
 ftradition.com
 go24invest.com
 goptions.com
 hfx.com
 investcapitalmarket.com
 investrader.net
 newtradefx.com
 otmfx.com
 rbinary.com
 sbotrading.com
 sunbirdfx.com
 thetrueoption.com
 trade12.com
 unitedoptions.com
 10markets.com
 SOOoption.com
 Sprofit.com
 aaafx.com
 aaoption.com
 admiralmarkets.com
 afghanbawar.org.af
 albatrosgt.com
 algobanque.com
 alliance-options.com
 b4binary.com
 banco-capital.com
 beeoptions.com
 bforex.com
 bigoption.com
 binaring.com
 binary8.com
 binarybrokerz.com
 binaryfn.com
 binaryroom365.com
 binary-slot.com
 binaryuno.com
 bmpoption.com
 brokerofficial.com
 brokeroption.com/it/
 bsdoption.com
 cfdlOOO.com
 citrades.com
 cyprusinvestmentllc.com
 daily-trades.com
 eclipse-finance.com
 edgedalefinance.com
 empireoption.com
 evrolife-association.com
 exbino.com
 finpari.com
 ftrade.com
 fx-inter.com
 g4trader.com
 goldenratioassetmanagement.com
 gotooption.com
 gtoptions.com
 hedefonline.com
 highoption.com
 imperialoptions.com
 insideoption.com
 ivoryoption.com
 ksftrade.com
 lbinary.com
 lottmarket.com
 marketsdl.com
 marketsrally.com
 maxoptions.com
 mrtmarkets.com
 netotrade.com
 nextoption.com
 noloptions.com
 noafx.com
 onetwotrade.com
 optionSOO.com
 optionbit.com
 optionstarsglobal.com
 optionsxo.com
 pacificoption.com
 plusfinancials.com
 plusoption.com
 plustocks.com
 porterfinance.com
 primebrokerz.com
 pwrtrade.com
 rtgtrading.com
 sa fe klik.com
 safe-option.com
 scala.trade
 SecuredOptions.com
 swissfxpro.com
 tadawulinvestments.com
 thetrueoption.com
 titantrade.com
 touchtrades.com
 Tradersking.com
 tradingbanks.com
 tradorax.com
 ubinary.com
 ukoptions.com
 utrader.com
 vipoptions.com
 whaleoptions.com
 wikioption.com
 winoptions247.com
 yesfx.com.cy
 zulutrade.com
 zenithoptions.net