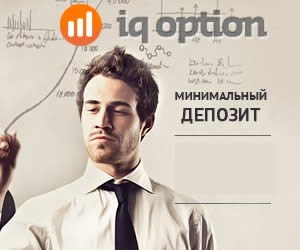 Having entered the online retail binary options industry in 2013, IQ Option is a player that has shaken the waters by adopting approaches that are markedly different from other players in the market. The broker is owned by a company named Investlab Trading Limited and it is operated by Infofield Premier Limited, a Cyprus registered and based company. Aiming to make it very easy for anyone to trade binary options and provide all traders with the best terms on the market, IQ Option has since its establishment strived to remove all trading barriers and make binary options more attractive and more accessible to all. But let us take a closer look at what makes IQ Option differ from the rest:

To take advantage of our exclusive bonus, simply open an account on iqoption.com by clicking on the link above. Our bonus offer will be automatically acquired.
Open Real Account Free Demo Account
The platform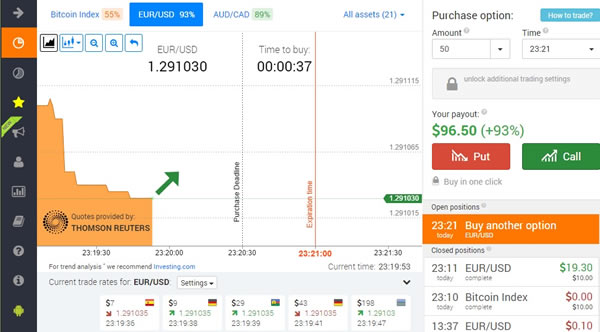 The most distinctive feature of IQOption is that it has not opted for using the trading platform of one of the main platform providers, but chose to invest the necessary time and effort in order to purposely build and tailor-make its own platform. This is indicative of the broker's intention to differentiate its offering and its commitment to establish itself and remain in the industry for the long term. Making full use of latest technologies and implementing innovative ideas, the trading platform of IQOption achieves to make the trading experience of its customers not only easy and smooth but fun as well. Moreover, catering for those traders wishing to trade on-the-go, from anywhere and at anytime, the broker has also developed a mobile application enabling trading via mobile devices, which is available for downloading on the App Store and on Google Play.
Types of trading
Perhaps the only obvious downside of IQOption is the limited choice it gives its clients in terms of the types of trading it offers, since, unlike many of its competitors, it only has available the classic call/put binary options type as well as turbo binary options, which are traded on faster expiry times and can give higher returns due to their increased risk level. However, this approach is perhaps consistent with the broker's "no-frills" outlook, since binary options traders, especially the novices, do not need sophisticated trading types but can get in the action quickly and easily through the traditional up/down binary options trading type, which the most easy to understand and trade through.
Asset list
The tradable assets offering at IQOption includes assets from across all the four asset categories, i.e. forex pairs, commodities, indices and stocks (equities). The total number of assets one could trade on is currently 75, a number which is not as impressive as in other brokers, but it is nevertheless adequate to offer a pretty comprehensive array of available choices. There are 23 forex pairs available, including all the popular ones and pairings of the ruble with other currencies, to reflect the broker's focus on Russian customers. Moreover, there are also 43 stocks of well-known companies, 7 indices, which represent the most important globally and 2 Commodities.
Account types and bonuses
IQ Option offers a free demo account, which is especially useful for first-time, inexperienced traders who would like to try out trading before committing any real funds. Obtaining such an account is very simple and in line with the broker's no-frills approach of operating. The demo account is completely free and offers access to practicing trading on 13 different assets, as well as an introductory webinar to get to grips with the basics of trading. Unlike other brokers, who offer a lot account types, IQOption has only two; the Real account type and the VIP account type. The real account type can be opened with as little as $10 as an initial deposit and enables its holders to obtain full access to all the available trading opportunities. Moreover, it allows a trader participation in all competitions run by the broker, as well as 3 day processing of withdrawals and a chance of getting up to 45% return in case a trade ends out of the money, while also qualifying for bonuses of up to 80% on each deposit made. VIP account holders need to make an initial deposit of at least $1000 and comes with the additional perks of having your own dedicated account manager and receiving monthly analysis of a customer's trading record by the broker's analysts. Moreover, for VIP account holders withdrawals are processed in just one day, while they also stand to receive up to 100% bonus for each deposit and up to 60% return if a trade ends out of the money.
Deposits and withdrawals
The deposit and withdrawal procedures are relatively straightforward, easy and fast. Depending on the payment method chosen, deposits can be even be made automatically with just one click. Withdrawals on the other hand need the submission of a relevant request by the client and require a processing time between one and three, depending on the account type one holds and the withdrawal method chosen. The minimum deposit as well as the minimum withdrawal amount is set to a very low $10. The accepted payment methods include major credit cards, such as Visa and Mastercard, as well as Wire Transfer, Skrill, WebMoney and Polipayments.
Customer Support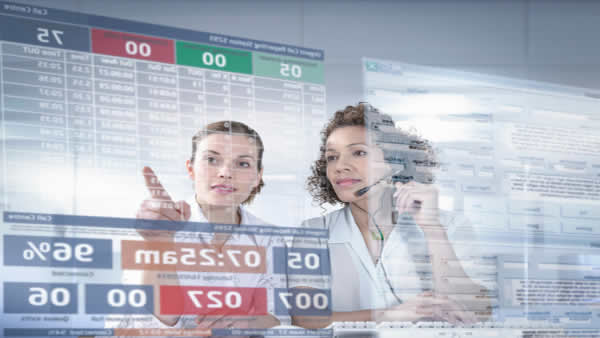 The IQOption website is multilingual and caters for the need of traders in the global community to be able to trade in their own language since it is available in English, Arabic, Spanish, Indonesian, Italian, Portuguese, Russian and Turkish. Customers can resort to the comprehensive and detailed FAQs section of the website in order to seek answers to their queries, but in case this is not adequate they can contact the broker's customer service department directly either via live chat from the website, by sending an email or by phone, with local numbers being available for customers in London, Canberra and Singapore. The broker also offers its customers a series of more than 50 different informative online lessons on various trading related topics which are available more than 20 different languages, making it easy for each interested trader to receive training in his/her own native language.
Conclusion
Although new on the scene and even markedly different in its approach when compared to other brokers, IQOption has been gradually but dynamically building its reputation and profile among binary options traders, especially in the Russian-speaking market. A token and proof of its recognition, is the fact that in 2013 it was named the Most Innovative Binary Options Broker at the international Show FX conference in Moscow. Our overall assessment is that IQOption has indeed taken all necessary steps to remove all the possible obstacles to trading by offering a free demo account and setting very low deposit and account opening amount levels and it is therefore worth a shot, especially for those debutant traders, looking for a no-frills, relaxed, yet reliable and committed broker to trade through.
Open Real Account Free Demo Account