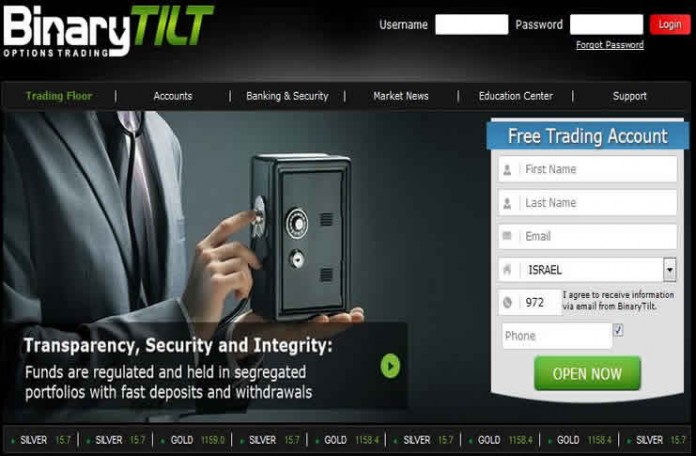 Having started off as a binary options trading venue back in 2013 from New Zealand, Binary Tilt is currently owned and operated by Cyprus-based Depix Holdings Ltd, which is however a full subsidiary of Sumo Forex Ltd, which is located in Auckland, New Zealand and is also registered as a Financial Services Provider in New Zealand, holding the FSPR Registration Number: FSP411486. BinaryTilt has pledged from the beginning to be basing its operation on the core values of integrity, trust, honesty, fairness, transparency, reliability and flexibility, while also keeping its commitments and acting responsibly against clients and managing its own house well, based on strong corporate governance principles. Having made strides in consolidating its presence in an industry that is fiercely competitive, Binary Tilt still seeks constant innovation by improving, adjusting and enhancing its binary options trading offering. Find out more, about this exceptionally promising broker by reading our review below:

To take advantage of our exclusive bonus, simply open an account on binarytilt.com by clicking on the link above. Our bonus offer will be automatically acquired.
Open Real Account Free Demo Account
The platform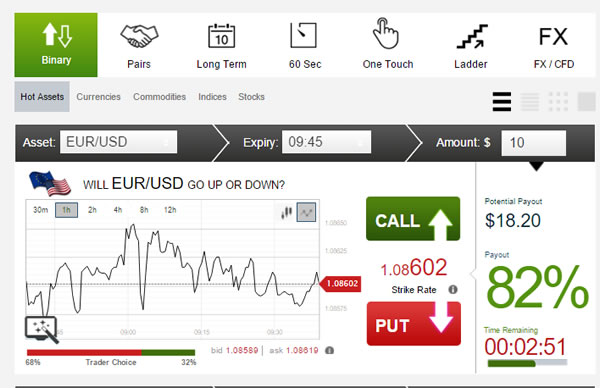 Although this was not always the case since its 2013 inception, currently Binary Tilt is using a fully customized version of the popular and technologically advanced SpotOption platform. This alone is enough to ensure that the platform offers the best of cutting edge technology, very fast execution times, it is easy to use, navigate and take full advantage of and offers many innovative tools and features, such as an interactive display, a candlesticks view and a strategy advisor that provides formula generated predictions. Moreover, traders can also make use of other handy trading tools such as 'Sell', 'Double Up' and 'Rollover,' which allow them to gain additional control over their open trades by either doubling them, extending their expiration or closing them before they expire. Those who prefer to trade on the go via a smart device instead of from their desktop or laptop, can still do so by downloading for free, the specially developed mobile trading application that offers Binary Tilt clients the same superb capabilities even when trading on the go.
Types of trading
The different types of binary options trading available to traders via Binary Tilt is perhaps as extensive as it gets in the online retail binary options trading industry, especially if one adds to the equation the several expiry times available for each instrument, rendering the whole offering even more versatile and potentially lucrative. All binary options traders who open an account with Binary Tilt can then tailor make their trading experience by choosing, from the entire offering, the trading type, expiry time and asset that best suits their budget, their skills and their risk tolerance. Besides the traditional call/put binary options trading and the opportunity to trade in forex and CFDs, Binary Tilt also makes available the full range of binary options trading, through the trading instrument types of pairs, sixty seconds, one touch, ladder and long term options. Moreover, Binary Tilt offers another popular feature of binary options trading, which is the Option Builder, a tool that allows traders to fully customize the options they are about to trade by setting all the relevant parameters, including their own risk/profit ratio, which in turn gives them full control over their risk level.
Asset list
The list of assets available for trading on the Binary Tilt platform provides an impressive array of assets for traders to choose from, from across all the four major asset categories, namely forex currency pairs, commodities, stocks and indices. In all the asset categories traders may find the popular assets in each one, but also many more exotic alternatives that could prove to be potentially very lucrative. When combined with the multiple expiry times and trading types available, the tradable assets index offered by Binary Tilt guarantees increased opportunities for every trader to diversify their investment portfolio by being able to select different assets, traded through different methods and expiring at different times and creating the combination that best serves their interests and best matches their needs.
Account types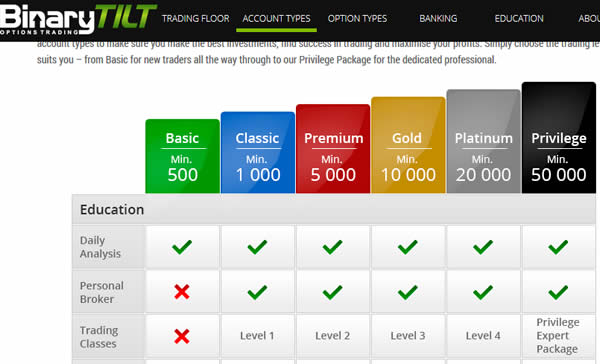 When it comes to offering diverse account types to its clients, Binary Tilt have really gone overboard by making available 6 different trading account types. These are the Basic, Classic, Premium, Gold, Platinum and Privilege account types which come with a minimum deposit amount of 500, 1000,5000, 10000, 20000 and 50000 USD respectively. All account types give access to some basic offerings such as the broker's educational materials as well as their market reviews and analytics. However, as you move up the ladder and you commit more money in terms of your initial deposit the more perks, privileges and advantages you are set to receive. As a general rule, those with the best account types get more in terms of the education and support they receive, mostly in the form of a personal broker and specialized trading classes. However, the most important differences between the various account types are observed in terms of the trading features offered, with those holding accounts from the gold level and beyond, enjoying access to the binarytilt dashboard, more signals, increased additional payouts, faster withdrawal times and an extra cash back bonus, which is however linked to a minimum monthly turnover.
Special mention should also be made to the fact that Binary Tilt pays special attention to the needs and requirements of its Muslim clients and that is why it offers special Islamic accounts that respect all that the Islamic religion dictates about engaging into trading. In this sense the Islamic accounts are in full compliance with the Sharia Law and there is also the added opportunity to invest in Halal assets.
Deposits and Withdrawals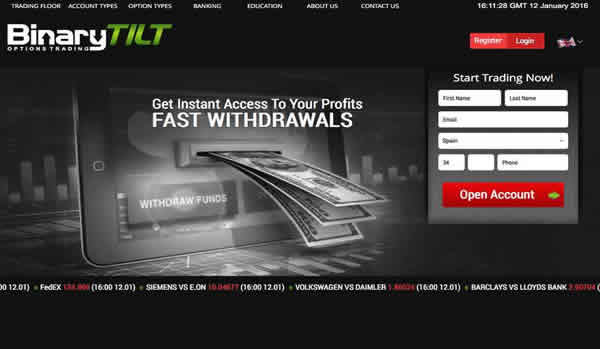 Banking with Binary Tilt is a real breeze and clients are literally spoilt for choice. When it comes to the minimum deposit amount that depends on the depositing currency, with a whopping number of 8 different currencies being accepted, i.e USD, EUR, GBP, CAD, AUD,JPY, ZAR and CNY. Depositing as well as withdrawing funds to and from your trading account with Binary Tilt is safe, simple and fast. The accepted payment / deposit methods include most major debit and or credit cards, such as VISA and MASTERCARD, as well as traditional bank wire transfers and an ever expanding number of electronic money wallet services such as China UnionPay, Skrill, Neteller, WebMoney, CashU, Qiwi and many more. There are no fees when depositing, while all clients are granted one withdrawal per month at no charge. Additional withdrawals in the same month incur a USD$25 processing fee, while no additional fees are charged for withdrawals to a Debit/Credit Card or a wire transfer to an Australian bank account.
Customer Support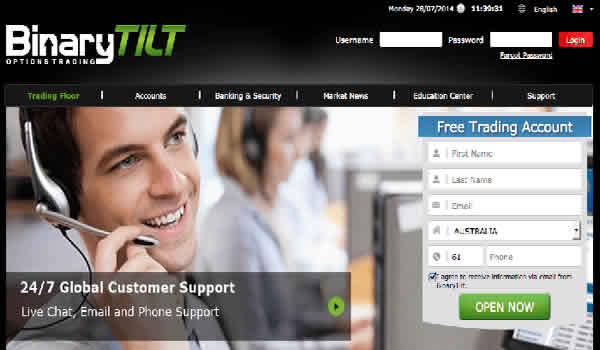 Besides the English language the Binary Tilt website is currently also available in Chinese (Mandarin), Japanese, Russian and Arabic. These language options cover a very large segment of the prospective client base, offering them all the opportunity to be able to trade in their native language. The languages available also reveal the target audience that this broker is aiming to attract, showing that it particularly caters for and aims to solicit clients in the Asia Pacific area, which is not surprising given its New Zealand registration. Trader support is one of the strongest features of Binary Tilt and for the ease and convenience of all customers it is offered on a 24/7 basis. The broker's helpful, polite and efficient team may be contacted through the site via live chat, via email by completing the relevant online form or sending it directly to the relevant address or by phone to one of the six local numbers provided in the UK, Australia, Canada, the United Arab Emirates, Cyprus and South Africa, proving the broker's true global reach. Moreover, there is also an Australia based fax number that clients seeking any kind of trader support can use. Binary Tilt's education centre is really comprehensive and packed with all sorts of helpful and useful information and materials that will greatly enhance the trading knowledge, skill and expertise of traders of all levels, from total novices to true professionals. Signals, e-books, educational videos, market analysis, social trading, a glossary and a lot more, make up a training venue that was prepared with a lot of care and attention and put at the disposal of all clients opening an account with Binary Tilt.
Conclusion
Responsive and sensitive to customer needs, Binary Tilt shows a real and genuine commitment to providing a highly comprehensive, intuitive and secure trading environment for traders of all experience levels, from the complete newbies to real professionals. Its roots and registration in the jurisdiction of New Zealand increase the traders' faith in and confidence to the broker, while also giving it a competitive edge and advantage when it comes to traders from the down under and the Asia Pacific area. Binary Tilt appears to be a transparent, reliable and highly professional broker that could prove your strongest ally in making your trading endeavours in the field of binary options trading, enjoyable, successful and lucrative.
Open Real Account Free Demo Account