Headquartered in the UK and operating since 2012, OptionsXO is an online binary options brokerage that operates under the motto "Integrity is our most valuable asset". At first glance, one of the strongest points of this particular broker is the very good organization of their website, which has all the necessary trading tools readily available and well explained, thus providing an extremely user-friendly trading environment, even for the most inexperienced traders. OptionsXO also prides itself as being the "most accurate signal provider in the market," while highlighting the fact that it offers some of the highest pay-out percentages around and it features an efficient withdrawals policy, with withdrawal requests being processed within 2 to 5 days.
OptionsXO offers first time depositors a special bonus of up to 50% of their initial deposit amount, although this bonus cannot be withdrawn before one completes 30 times the amount of the bonus in trading volume. Moreover it also runs a Refer a Friend program, under which, when referring a friend, who then opens a live account and makes a deposit, you will receive 10% of the amount of your friend's first deposit.

To take advantage of our exclusive bonus, simply open an account on Optionsxo.com by clicking on the link above. Our bonus offer will be automatically acquired.
Open Real Account Free Demo Account
If you are already intrigued, then read on for a more detailed presentation of the main features of this promising binary options broker:
The Assets

The Asset Index on OptionsXO is quite varied and it could be classed as satisfactory, although we feel that it could be further enriched. Having said that, potential investors have at their disposal an array of numerous asset types in the 4 major asset classes: commodities, currencies, stocks, and indices. Currently, the OptionsXO menu of tradable assets offers 8 different stocks, 16 currency pairs, 3 commodities (gold, crude oil and silver), and 12 different indices from all over the globe. With such a fairly comprehensive tradable assets list, clients should be able to find something to trade on that suits their needs and meets their preferences.
The Platforms and Account options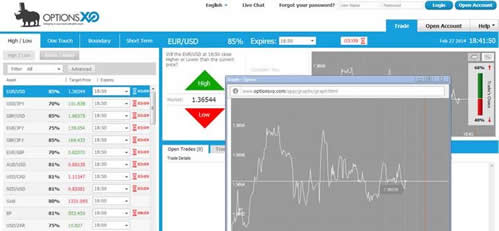 The web-based platform used by OptionsXO is provided by Tech Financials and does not require any software download, while traders can also trade on the go, through accessing the broker's dedicated mobile platform.
Trading through OptionsXO is done with three different instrument types, the High/Low instrument, the One Touch Instrument and the Boundary Instrument. What differentiates OptionsXO from other brokers is that for each of these instrument types they also offer an additional category for the corresponding High Yield option. This means more opportunities to traders to increase their profits as the rate of return for each high-yield option ranges between 200%-360%!
Among their many features, OptionsXO offers several account types for customers to choose from to suit their needs and preferences. All account types are commission free and provide investors will full access to the trading platform. The first account type is the Mini account and it has a minimum investment amount of $200. The Silver account requires an initial deposit of $2000, but investors who open this account type receive an additional return of 2% on every trade and can also benefit from free access to OptionsXO's learning center, market experts' analysis and free trading support. The minimum initial deposit to open OptionsXO's Gold account is $5,000, which gives investors an additional return of 3% on every trade. Finally, Platinum account holders are obliged to commit $10,000 to start trading but they stand to receive 4% additional returns on each trade, as well as all the privileges enjoyed by VIP account holders.
Trading Tools and Customer Support
The OptionsXO website is available in eight different languages, namely in English, French, Spanish, German, Italian, Russian, Arabic and Turkish. This brokerage appears to be paying much attention to providing high quality customer support and its dedicated support staff can be reached via telephone, email, fax and through live chat. For the convenience of local customers, the company has an extensive network of international support numbers, with local numbers in the UK, Australia, Canada, Bahrain, Japan, Germany, Ireland, Luxembourg, Italy, Spain, France and South Africa, with operators ready to assist traders with their questions on all matters, be they trading queries or technical troubleshooting.
Another strong feature of the OptionsXO website is the so called "OptionsXO Binary Options Academy" which is full of educational materials for beginners as well as expert traders in the form of videos, an in-depth course and an e-book, all of which are useful resources for any investor. A downside is the fact that the daily and weekly market analysis posts on the site are very outdated (end of 2012!). However, the economic calendar is up to date so perhaps the market analysis old pieces just have been somehow "forgotten" on the site.
Through the OptionsXO website the early closure of positions is usually available on most options. Moreover, OptionsXO offers traders innovative tools that help make their trading more successful. These are the rollover feature, which allows traders to extend the expiry time of an option to the following expiry time and the double-up feature which allows traders to double the size of the initial investment.
Conclusion
Although there is room for improvement in certain aspects, OptionsXO can easily be argued to be an attractive choice for prospective binary options traders, especially those who value highly this broker's commitment to innovation and simplicity in the trading environment. So, if you are looking to invest some money into binary options then perhaps OptionsXO should be one of the brokers you should seriously consider trading through.
Open Real Account Free Demo Account