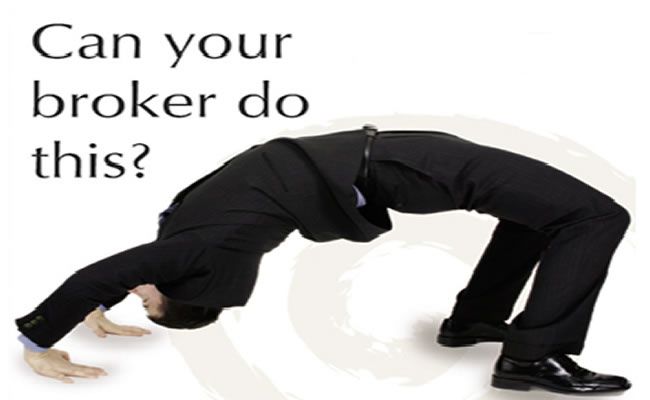 I'm finding it hard to commence part eight without coming across as overly-dismissive, or rude. But sometimes guys, you really do ask for it, don't you? And by guys I mean the people these articles are actually intended for, the people out there throwing their money away on a form of trading that is only intended to fleece them, and nothing else.
Okay, deep breath. Now let's start again. Right. Part eight should be called: WHY ARE YOU ACCEPTING INVESTMENT ADVICE FROM THE PEOPLE WHO PROFIT FROM YOUR LOSSES!?
Simple as that. It isn't too hard for you to figure out for yourselves that binary options brokers are bucket shops. I.e. none of the "trades" you place are actually forwarded onto a real market or exchange. They are the counterparty; they manage their risk by paying the winners out from the capital they take from the losers, and manage this precarious balance for as long as they can without upsetting too many people. Now this being the case, why would you ever listen to the silver tongued devils who call you, get you to deposit, and then actually advise you what trades to make? Come on! It really is beyond me.
As far as I'm concerned this is one of the most disreputable areas of the industry and one that the regulators seem to have no knowledge of whatsoever. Minutes after registering with a binary broker you will be called by one of their representatives, claiming to be a head, or senior broker, who will try to get you to deposit as much money as possible with promises of ridiculous profits and priority access to their exclusive trading signals. The fact that so many people fall for this crap is a testament to just how gullible people really are and how much they desperately want to believe that they have stumbled on a legitimate investment opportunity. Sadly guys, I'm here to burst that bubble and tell you that you haven't, these people are scam artists and will take you for everything you've got. One such "senior broker" is getting blasted all over the web nowadays by people he convinced to invest hundreds of thousands with his firm. The high pressure sales tactics are straight boiler-room and the operational dynamics are pure bucket shop. The way this broker and many others work, is normally by adding you to some kind of group, usually over Skype, and then providing you and the rest of the group with trading signals throughout the day. These guys actually seem good at providing signals, which causes me to wonder why they don't choose to ply their trade in a legitimate trading industry, but then the amounts they are able to take from hapless newbies is truly staggering. Actually a buddy of mine who briefly worked as a broker in one such place informed me that the signals are provided to them by the company's analysts.  These brokers will help you win for a while, building your confidence in them and often managing to get you to invest even more capital for the opportunity to make even larger gains. Your own greed is what they use to take you for everything you've got. Then at some point the word will come from on high and you will lose and lose BIG.
You can always Check out binaryoptionswire Blacklisted Brokers list and protect yourself and your money from scam brokers. Choose a trustworthy and reliable broker instead.
One thing I want you to keep in mind, the only thing I'd like you to take away from this article, is that these "brokers" who have managed to convince you that they have extensive investment experience and will help you to become rich, are nothing more than salesmen and women, when they turned up for their interview in their cheap suits they probably had as much investment experience as you do! They had a penchant for bullshit and an ability to learn the terms of the trade, that's it. Don't believe me? Have another more critical look at some of the piss-poor YouTube videos they make explaining the forthcoming week's economic reports and other such nonsense. These are not investment professionals, they are bullshit peddlers who are only marginally smarter than you in that they have convinced you they know best. Damnit, I lost my train of thought again and started rambling… The point I want you to take away from part eight, is that they get paid according to how much they take from you. Their commissions are based on how much you lose! So why the hell would you take investment advice from them? Ever wondered why it's so damn difficult to withdraw any money from these places when you call your "broker" up? Well, silly, it's because every withdrawal you make comes directly out of his or her commissions!
So with this in mind why would you ever think you stand a fair chance with them? A bookie is a counterparty too, yes, but a bookie doesn't control the outcome of the game as I have been arguing here. If you have been following this series from part one I hope you now have enough information to never waste a single penny of your hard earned cash on binary options trading. The hierarchy normally goes Trading- Gambling. Trading often seen as being more legitimate and less based on a random walk. The argument I have attempted to make throughout this series is that binary options are way worse than gambling. So the line goes Trading – Gambling – Binary Options, a.k.a daylight robbery.
In a number of following articles I will be building a case for alternative investments that I have looked into and at least deem to be truthful and above board as far as the accusations I have made against binary options brokers go. In the interests of full-disclosure I'd like to say that I am looking for a legitimate sponsor, probably from the Forex industry. BinaryOptionsWire is a business and I can only continue to have a voice here if I manage to bring home the bacon. I would, however, like to say that I will never promote a company that I have not traded with myself and have deemed to be a safe place to invest your capital. This whole series was started with a view to being able to get paid from an industry without lying to people and subjecting them to situations where they could lose significant sums of money, whether it's their own greedy fault or not. I hope you'll join me later this week where we will look at simplified trading solutions that aren't there to hoover money out of your bank accounts.
If anybody would like to discuss any of these matter further with me please don't hesitate to contact me directly at [email protected]
All the best,
P.