uBinary is a binary options brokerage headquartered in London, England. On its website, the company promises to simplify the trading process and to enable investors to trade within minutes, claiming to be able to offer both "an unmatched customer trading support service", as well as "a user-friendly trading environment".
Having explored the trading platform, we are able to safely assert that uBinary has delivered on this promise to a very large extent.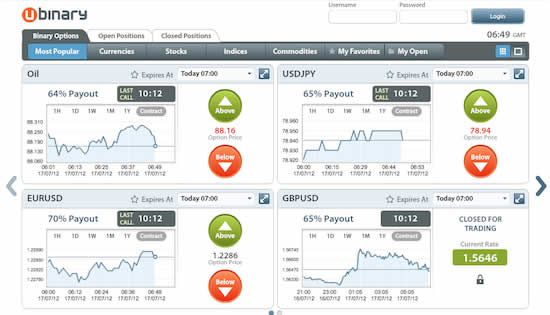 Open Real Account Free Demo Account
The Assets
uBinary offers traders a menu of 45 tradable assets. This might look like providing a fairly limited number of options for investors to choose from, especially since we couldn't help noticing the absence of stocks, which could be argued to be a weak point. However, after contacting uBinary to clarify this issue we were told that the company is now in the process of adding stocks to its assets portfolio. Such an addition will be clearly welcomed and we appreciate the fact that the company recognized this weakness and it is working to address it. At present, uBinary traders can trade the following assets:
30 Currency Pairs
8 Commodities
7 Indices
What is impressive as well as striking however is the returns rate for the clients of uBinary, since through trading everything from gold and oil to the S&P 500 and the Dow Jones, uBinary traders can earn up to 85% per trade. The minimum deposit amount at uBInary is $100, while the Minimum Trade Size is set to mere $20.
The Platform
UBinary uses a very effective platform and differs from those used by most other companies. This innovative platform, however, proved surprisingly easy to use. Consequently, although the website includes a handy Platform Guide, we rarely had to consult it while exploring the uBinary platform. The user-friendly platform is divided into three convenient sections, all of which are visible throughout the trading process:
The Dashboard clearly displays vital account information, e.g., Free Balance, Stake, Total Pays, Balance, and Account Information.
The Menu Bar lists all tradable assets and the user's open and closed trading positions.
The Make a Trade section is where uBinary traders execute their trades. This is done in three simple steps: Choose Asset, Choose the Trend (above or below), and Choose Investment Account.
Indeed, the platform is one of the most refreshing and distinguishing features of uBinary, making it stand out from the abundant binary options broker sites available. The trading environment is inspired and guided by the two principles of "simplicity" and "innovation" and this is both visible and evident and also extremely helpful, making trading easy and even fun for all, even the most inexperienced users.
Bonuses and Promotions
Another attractive feature of uBinary is that it updates its bonuses and promotional offers throughout the year, thus allowing both first time users and existing clients to take advantage of such opportunities and increase their returns. At present, the company is offering a 30% welcome bonus of up to $2,000 and an invite-a-friend bonus of $100 per friend.
Open an account at uBinary and receive a 30% welcome bonus
To take advantage of our exclusive bonus, simply open an account on opteck.com by clicking on the link above. Our bonus offer will be automatically acquired.
Open Real Account Free Demo Account
Trading Tools and Services
The people at uBinary come across as real professionals, who want to take care of their customers. We can see this in the fact that after opening an account, uBinary traders are immediately given access to real-time news feeds, daily reviews, and educational resources. We were also impressed with the company's coaching service, through which all new traders—no matter what type of account they choose to open—are assigned a remote-access personal trading coach. Such personalized, tailor-made assistance seems to be unrivalled in the industry. The uBinary website, as well as the 24-hour help desk that the company offers, are both available in four languages, namely English, French, Spanish, and Arabic. Perhaps this is another field with room for improvement, considering that the globalized market means interested clients come from across the globe, but language barriers are not anticipated to be a hindrance to trading through uBinary.
Conclusion
If you look beyond the absence of stocks in the company's assets portfolio, uBinary emerges as a prime example of a fresh and original environment in which to trade binary options. The orderly and clean layout of their platform and the impressive array of many tools available for user support and guidance, render uBinary a broker company that appears to want to offer their clients the very best.