Beeoptions? Why on earth would a binary options firm be named after an insect? At first I thought it must stand for something else, but after seeing the company logo depicting a bee and the associated black and yellow colours on their website, it got me thinking that there must an underline rationale behind their chosen name. Taking a closer look at this brokerage for the purposes of this review, helped me discern why Beeoptions is indeed an apt name for the bunch of people behind this endeavour, because, in an analogy with bees, they are hard-working and useful. In what sense? Well, it appears that Beeoptions management and staff strive to uphold their corporate pledge, which includes the promise to offer "outstanding customer service" as well as provide the "most intuitive and straightforward trading platform on the market", and delivering on such a promise definitely takes a lot of hard work. And they are useful because they help you, the binary options trader, produce some honey…hm…I mean returns on your trades. But, let us see how this is so.


To take advantage of our exclusive bonus, simply open an account on Beeoptions by clicking on the link above. Our bonus offer will be automatically acquired.
The Assets
Beeoptions pride themselves on the flexibility they offer their clients, and with a very impressive menu of over 130 assets, we believe that they right in doing so. A trader choosing Beeoptions can invest in either commodities, currencies, indices or stocks. Currently, the tradable assets on the Beeptions platforms consist of 17 different currency pairs, 8 tradable commodities, soft and hard, an impressive array of 37 indices from all over the globe and an even more remarkable list of 65 stocks of firms from all over the spectrum of economic activity and from many different countries.  Therefore, with one of the biggest baskets of tradable assets around at their disposal, Beeoptions' clients are definitely spoiled for choice and are also able to trade at varying expiry times (60 seconds to 15 minutes, hourly and close of the day).
The Platforms and Account options
Besides the traditional call/put option, through the Beeoptions platforms, you can choose to trade the 60 Second method, which means very fast returns, or Long Term, which enables one to increase the expiration times of trades in order to maximize returns. Moreover, BeeOptions offers One Touch trading which is available always, even when markets are closed and has the highest payout potential of 430% (at an increased risk level). Another unique feature of Beeoptions is the Pairs tool, which lets you choose two different assets and attempt to discern which one will close at a highest price.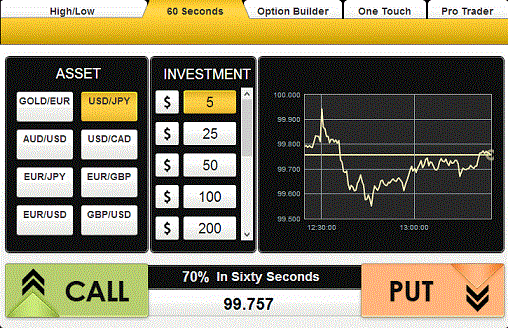 According to the minimum deposit you are willing to commit, you can choose one of the four account types offered by Beeoptions, and enjoy the associated benefits. The gold account has a minimum deposit of 1,000 USD, the platinum a minimum of 2,500, the diamond a minimum of 5,000 (the perks here even include a free i-pad shipped to your doorstep), while the executive account, with a minimum deposit of 25,000 comes with an array of exclusive benefits.
The minimum deposit amount required to open an account is 150 USD, while a mere 5 USD is the minimum trade amount, with payment and withdrawal methods including major credit cards, wire transfer and, of course, the Bee Options ePayment Card.
Trading Tools and Customer Support
Under specific terms and conditions, traders through Beeoptions can take advantage of additional trading tools such as the Rollover, which allows the extension of the expiration of a trade, the Double-Up, which doubles your investment at the touch of a button if you feel you have a very strong position nearing expiry time, and the Buy Me Out, which allows you to sell your trade early, i.e. an hour before it expires, but is only available on the Pro Trader platform.
Moreover, there is an E-book for customers to download, as well as a glossary and trading manuals offering advice on how to conduct successful trades. An added, very useful feature, is the Binary Options Times, in the form of a blog, which is compiled by BeeOptions staff and contains useful market news and analysis.
Beeoptions customers can contact the broker's customer service and support team to request assistance or seek answers to their questions on a 24/7 basis, either through using the online inquiry form through the Contact Us link on the website, or via Live Chat, Skype or the traditional methods of email or phone, including a toll free number. The customer phone support is available in English, French and Spanish, while the trading platform is also translated into these three languages.
Conclusion
Ok, so Beeoptions do not have any amazing innovation to show off, they have not re-invented the wheel or anything to that effect. What they have done however, is, through hard work, just like a bee, that they managed to add improved features to the already reliable and user-friendly, as well as CySEC regulated, SpotOption platform. They have paired this with a huge basket of tradable assets and an unequivocal commitment to providing an excellent level of customer service, including the conduct of business in a clear, straightforward and honest way that simplifies and speeds up both the trading as well as the withdrawal procedures. Therefore, this little "insect bearing" company might prove to be just the "sting" you need to start trading binary options online today…so, go on, go and make some honey!!!
Open Real Account Free Demo Account