Created very recently, in 2014, Finpari is a binary options broker which particularly focuses on and caters for the Russian and Asian markets and it has already, in a very short while, managed to attract many customers due to its simple and fresh platform, very fast withdrawal times, above average choice of assets, trading types and account options, a high quality customer service and the secure and reliable trading environment it offers to traders. Let us have a closer look at the typical and more distinguishing features of this new broker to discern whether the initial positive first impressions it creates are solidly founded:

To take advantage of our exclusive bonus, simply open an account on Finpari.com by clicking on the link above. Our bonus offer will be automatically acquired.
Open Real Account Free Demo Account
The platform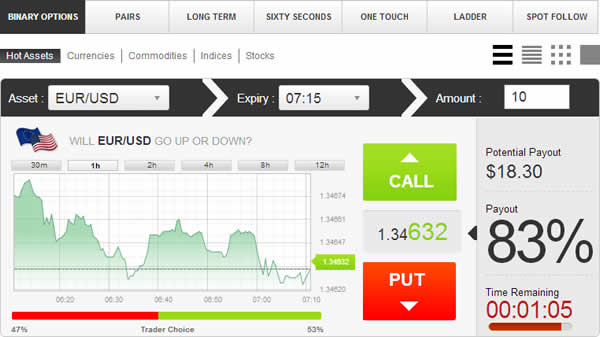 The platform used by Finpari is the very popular, reliable and feature packed platform designed by Spotoption, Spot 2.0. A clutter free, fresh and clear interface enables traders to place their trades in an environment that is not only user-friendly, but also easy to understand and learn to use effectively, while at the same time offering flexible and versatile added features that further enhance the trading experience. Besides the online version of the trading platform, Finpari has also taken into account the needs of traders wishing to trade on the go, through their smartphones and other devices, by having available a mobile application for use on their Android or Iphone devices from anyplace and at any time, always in a very secure environment. Moreover, and showing that it is responsive to the newer trends in the industry Finpari has the SpotFollow feature enabled, through what it calls "Follow the leaders" allowing its clients to take full benefit of the advantages offered by social trading and giving them access to the trading history and patterns of thousands of other, successful traders, the choices and success of whom they can copy and replicate in order to gain equally good results.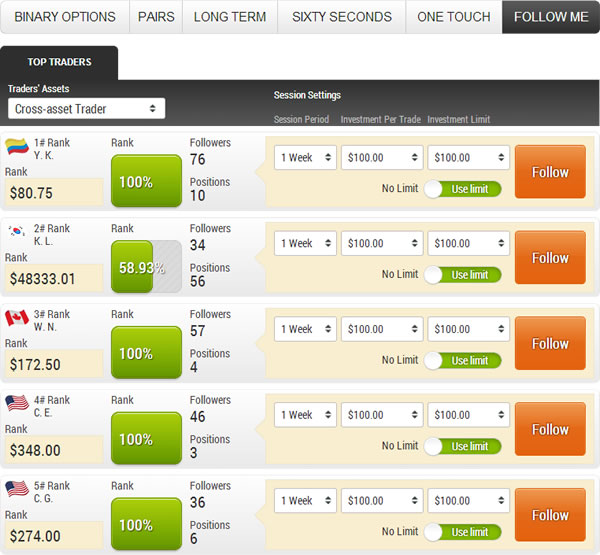 Types of trading
Besides the traditional call/put binary options trading, clients are spoiled for choice on the Finpari trading platforms since they can also place their trades on a wide range of other types of trading. These include long term options trading, sixty seconds trading leading to instant results, one touch trading that promises very high payouts if one is willing to assume the extra risk involved, as well as the more innovative pairs and ladder options types, with the former entailing the choice of two assets attempting to predict which will outperform and the latter allowing the building of a trade in a more flexible manner. Traders can also utilize the many added features and tools offered to them by the Finpari platform, such as charts and other indicators, while they can manage each trade more effectively this increasing their chances for success and profit making, through the early closure of a trade to cut losses or minimize risks, the Rollover tool which delays the expiration time or the Double Up tool which allows one to double his/her position. Finally, for certain types, clients also get the opportunity to trade during weekends when markets are closed.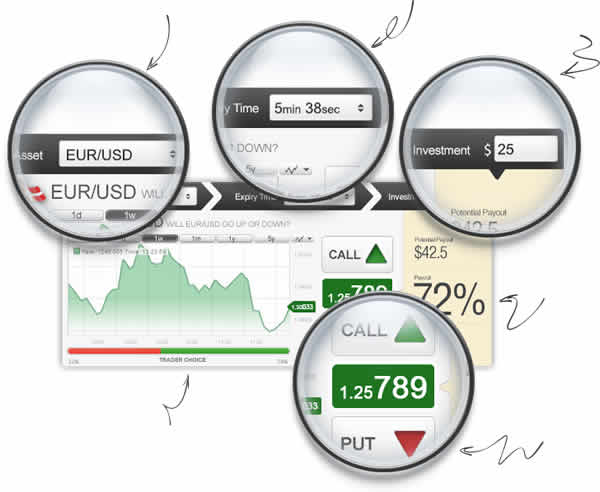 Asset list
The tradable assets menu available at Finpari features over 100 different assets from all the four main assets categories, namely forex currency pairs, indices, commodities and stocks, with the indices and stocks offerings being especially rich and wide. The range of tradable assets available allows all traders to be able to locate the asset or assets that best fits their own needs, skills, requirements and investment profiles and combined with the various trade types available means that both novice and more seasoned traders have good chances of making successful, profitable trades.
Account types and bonuses
Finpari offers traders three different trading account types to choose from, plus an added option of a Fixed Income Account, giving investors a pre-defined and stable rate of return. The first account type is the Bronze account, which has a minimum initial deposit amount of 250$ and offers its holders, besides full access to a demo account and a very helpful trading course, an extra bonus of 20% on the initial deposit amount. The second account type is the Silver account, which requires an initial deposit of 1000$ and offers its holders all the benefits of the Bronze account plus access to a master class and with the added benefit of the first three risk free trades, while the bonus for the Silver account rises to 50% of the initial deposit amount. The third account type is the Gold account type, which is reserved for those traders willing to commit at least 3000$ as an initial investment amount. On top of all the benefits of the Silver account, the Gold account comes with a bonus of 100% on the initial deposit amount, plus a Swiss prepaid card and an individual account manager who is always available to advice and assist the trader in managing his/her Gold account.
Deposits and withdrawals
Perhaps the greatest advantage of Finpari as a broker is the fact that is offers a guaranteed withdrawals processing within just 1 hour, irrespective of the account type that the trader has! This is a very attractive and appealing offering if one considers the lengthy and complicated procedures that are often required by other brokers. Moreover, Finpari prides itself of the wide range of funding and withdrawals methods available, which include the Visa and MasterCard debit and credit cards, Paypal, many e-wallet services, such as Webmoney, Qiwi wallet, OKpay, Perfect Money and Netteller, while the broker also accepts the more traditional banking method of a wire transfer. The minimum bet amount per trade on the Finpari platform is 1$ (or €), and the maximum is 1500$ (or €). The minimum deposit is 250$ and the maximum is 50000$, while there is no minimum amount for requesting a withdrawal.
Customer Support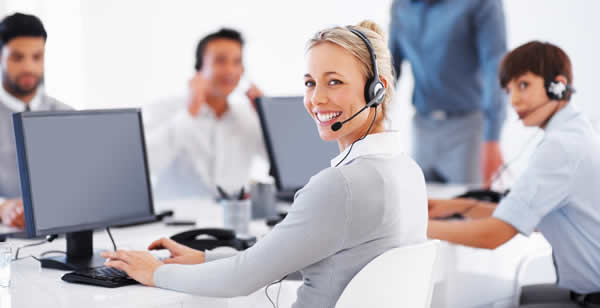 The Finpari website is available in English, Russian and Thai, reflecting the broker's focus on the Russian and Asian market. More language options would have perhaps meant a great potential client base, but since English is so widely spoken this could be argued to be compensated. A quite detailed and comprehensive FAQs section of the broker's website gives answers to most questions a potential or existing customer may have, but in case one cannot find a satisfactory reply to a query in this section, then the customer support department is available on a 24/7 basis, ready to help and guide all traders through their trading experience. The customer service department can be contacted either directly via live chat from the website, by sending an email or by phone, since Finpari offers customer support via 6 local phone numbers in different locations, namely in the UK, Russia, Hong Kong, Thailand, Singapore and Australia. Customers can also benefit from the education center offered by Finpari, which contains not only an introduction to the basics of trading, but also very useful video tutorials which deal with almost every aspect of the trading experience, aiming to make it as successful as possible. Moreover, for holders of the Silver of Gold trading account, Finpari also offers them the opportunity to receive a personal training both in theory and in practice by a true professional in the field, Abe Cofnas.
Conclusion
Finpari might be a relatively new entrant in the retail online binary options scene, but it appears not to be lacking any of the features offered by the longer established brokers, while it also demonstrates an enthusiasm and energetic approach towards enhancing the trading experience for brokers of all skill levels, that is both promising and welcome. Having already gained a solid client base, especially in its focus markets in Russia and Asia, and with more than 10000 trades executed every day, Finpari seems well in its way for further expansion and success in the fiercely competitive field of binary options trading and it does merit getting a chance to become your preferred broker.
Open Real Account Free Demo Account