Headquartered in the Caribbean, in the British overseas territory of Anguilla, No1options.com is a relatively new entrant in the online retail binary options scene, wholly owned and operated by a company named SHOF Marketing Ltd and aspiring to swiftly conquer the number 1 spot in the choice of binary options traders, due to its high level of service, user-friendliness, reliability and the unique features it puts at the disposal of clients. Although a new kid on the block, the willingness, drive and resolve to excel seems to be there with this broker and for that alone they do deserve to be considered as your broker of choice for trading binary options. But let us take a closer look, to find out more…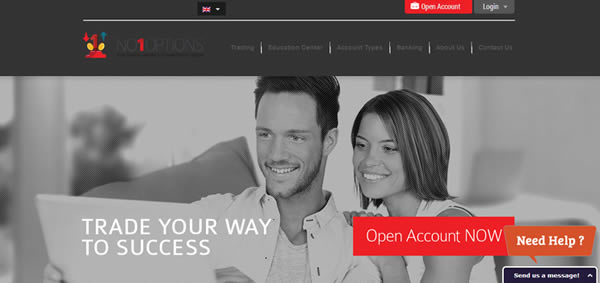 To take advantage of our exclusive bonus, simply open an account on no1options.com by clicking on the link above. Our bonus offer will be automatically acquired.
Open Real Account Free Demo Account
The platform and trading tools
Powered by SpotOption, the trading platform employed by No1options incorporates the highest levels of dependability and technological advancement in an environment which is, however, extremely user-friendly and straightforward. This means that binary options traders can place their trades in as little as three simple steps, while at the same time being able to employ advanced and sophisticated strategies and tools, all from the same versatile screen. Moreover, for those wishing to trade on the go from everywhere and at all times, No1options also offer a mobile platform accessible from all smart devices, which can be downloaded from both the App Store and the Android Market.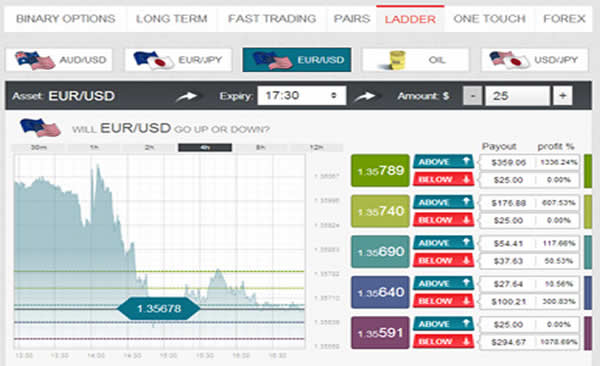 A strong point of the No1options' platform is the fact that asset selections are rendered very fast and easy through the multiple views of tradable assets that it makes available. Moreover, the more advanced traders will greatly appreciate the fact that both Fibonacci as well as Pivot levels calculators are amongst the technical tools put at their disposal in order assist the implementation of more complex trading strategies.
Types of trading
Besides the classic call/put binary options trading type, No1option makes available to traders multiple other types of trading, rendering the overall trading experience even more flexible and versatile and potentially ever more lucrative. These trading types include the one touch options type, a riskier "all or nothing" trading type which however offers incredibly higher returns ranging from 150% - 500%, the fast trading options type, where trades can expire in as little as 30 seconds and which can be traded at a variety of expiry times of up to five minutes, the pairs trading type, where a trader has to predict which of two assets will outperform the other by expiry and the long term trading type, which allows one to choose longer expiry times, for example once a moth or even once a year.
What is innovative about No1options is that it has also added the new type of ladder trading into its offering, which allows the more advanced traders to implement this trading strategy in order to simultaneously make separate individual trades at different levels. Finally, the most recent addition is that of forex trading which is done via the same, easy to use, platform.
Asset List
The tradable assets menu available on No1options.com can be said to be pretty impressive with a variety of 175 assets across the four asset categories. You can therefore rest assured that you can find the most popular currency pairs, the stocks of major companies, the most traded commodities and the biggest worldwide indices, which coupled with the multiple trading types available mean that you can definitely tailor-make your trades, according to your preference and level of expertise to ensure maximum success chances.
Account Types and bonuses
There are five different types of accounts that a trader can choose from when opening an account with No1option.  As is customary each account type has a different amount of initial deposit required and each comes with a different set of perks for the account holder, which increase as one moves further up the ladder. The first account type is the micro account which has a minimum deposit amount of 100 USD/EUR/GBP and offers a welcome bonus of up to 100%. The Silver account type requires 2,500 USD/EUR/GBP as its initial deposit amount and comes with up to 100% welcome bonus, where an initial deposit of 5,000 USD/EUR/GBP gets you up to 100% bonus and a Gold account type. If one has much more money to invest, then there is the Personal broker account type which requires at least 10,000 USD/EUR/GBP to be deposited and gives back a bonus of up to 150%, while the most premium and exclusive account type available is aptly named V.I.P. account and offers up to 200% as a bonus, provided one makes an initial deposit of 50,000 USD/EUR/GBP.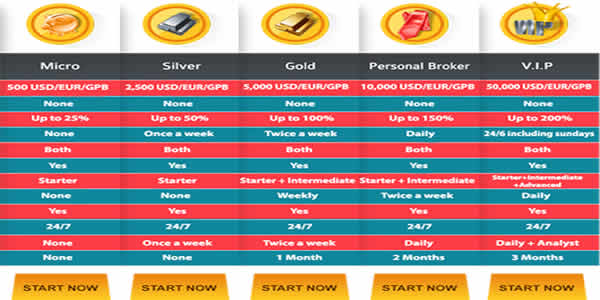 Depending on which type of account they hold, clients become eligible for varying degrees of access to a dedicated account manager, specialized 1 on 1 training sessions, as well as the reception of trading signals to help enhance their trading success chances.
Deposits and Withdrawals
No1options employs the SSL protocol in order to ensure the safety and security of the deposits and withdrawals made by its customers. Both deposits and withdrawals can be performed through a variety of secure payment methods, and in a variety of currencies, through a process which is simple, safe, and quick. No1options accepts and in fact recommends the use of major credit cards, including Visa, MasterCard, Visa Electron, Maestro, Maestro UK (Switch) for making deposits and withdrawals, because this is a fast and secure method for such transactions. Moreover, clients can send or receive funds via traditional wire transfer from and to their bank account, although they should be aware that this method comes with associated fees. In addition, clients can use the fastest growing deposit method in the online industry which are the numerous e-wallet services around, since No1options accepts all major e-wallets, such as Skrill, Netteller and Ukash.
Customer Support
An obvious downside of the No1options.com is the fact that the website is only available in English and Spanish, which might mean that non-English and non-Spanish traders do not have the opportunity to interact with the broker in their mother tongue. However, the overall assessment of the firm's customer support is positive since it can be said to be prompt and helpful. Besides contacting their personal account manager, who is available to all account holders depending on the type of account they have , except those who have the Micro account, clients can also contact the customer service and support department via e-mail, live chat or phone, with local numbers being available for traders in the UK, France and Australia. Traders can also benefit from the broker's comprehensive education centre which is packed with e-books, videos and courses provide invaluable knowledge and know how both for the beginners as well as for advanced traders.
Conclusion
Offering their service through a technologically advanced, feature-packed yet user friendly platform with a variety of trading types and a satisfactory selection of assets, No1options is a binary options broker that is not only friendly and easily accessible for novice traders but also very well suited for the needs of the most advanced, professional traders, since it puts at their disposal the advanced tools necessary to carry out more sophisticated trading strategies. No1options have made a dynamic entry into the industry and their presence holds potential and promise and a clear vision for aiming for the top spot in the industry to match the expectations created by their name. Time will show if they will succeed in becoming number 1, but they are off with a pretty good start.
Open Real Account Free Demo Account