RB Options is a Canadian based binary options broker, which made a rather humble entry into the online retail binary options industry back in 2012, and which has since made several attempts to improve and expand its offering to its prospective client in order to capture a larger market share and consolidate its presence in the industry. These efforts can be said to have yielded solid results and currently RB Options can boast of a very comprehensive and useful educational centre put at the disposal of clients as well as commendable customer service, both of which have helped the broker feature as a good choice when one is considering which broker to trade binary options through, especially in the North America region.

To take advantage of our exclusive bonus, simply open an account on rboptions.com by clicking on the link above. Our bonus offer will be automatically acquired.
Open Real Account Free Demo Account
The Platform and Features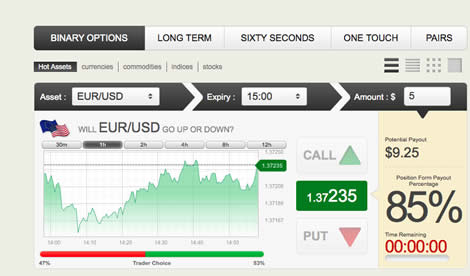 The platform used by the RBoptions broker is built on the SpotOption charting software, and requires no downloading, while a mobile app is also available for those traders wishing to trade on the go from any location and at any time using their smart devices. The platform can be said to be quite powerful and versatile but it is nevertheless also quite easy, simple and straightforward to use, meaning that even inexperienced traders can quickly master its operation and features and make the best of them in order to achieve successful trades. In addition to a safe and reliable platform, the traders signing up for an account with RB Options can really improve their trading skills by taking advantage of the broker's educational center and the numerous resources it has to offer, which includes analysis methods, webinars, an e-book and more than 50 books.
An added feature of RB Options is the provision of an unlimited, no-risk, free demo account that traders can use to practice through. Moreover and depending on the account type they opt for, traders can also potentially obtain access to one-on-one coaching sessions that can hugely improve their trading skills as well as their profits.
Assets List and Option Types Offered
The tradable assets menu on the RB Options website includes items from all the four assets categories of stocks, indices, commodities, and currency pairs. The current list offered for trading appears to feature around 70 different assets, which is a rather average, mediocre number and not as impressive as the more extensive choice found on other sites. However, traders are not left without a more than satisfactory variety when it comes to choosing what and how to trade, because, due to the power, versatility and flexibility of the SpotOption platform, these assets can be traded with many types of options, which include not only the traditional Call/put type, but also one-touch, ladder, pairs, and 60-second options. Moreover, the trading experience is made even more flexible since RB Options gives traders the ability to sell options early, double up, or roll them over straight from the charts. As a result of all these, potential payouts can be said to be high, with returns topping out at 88% and also with the added benefit of 10% rebates on losing trades.
Account Types Offered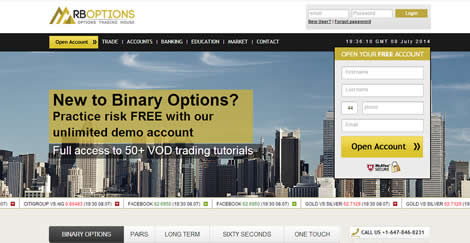 RB Options offers clients four different account types to choose from, namely the Silver account, the Gold account, the Broker account and the VIP account. However, the broker can be criticized that most of its strong features are only available to those clients who are willing and able to commit large sums of money in their trading account.
Indeed it should be pointed out that the minimum deposit amount of $250 gets a client almost nothing except the right to trade, and even the Silver Account, which to those depositing between $500 and $2,5000 only ensures limited functionality along with a 25% RB Options bonus. On the contrary, those depositing more than $10,000 become eligible for a Broker account type which offers both big bonuses and one-to-one training, while even more amazing features are available to VIP account holders, provided they deposit more than $100,000.
Deposits and Withdrawals
RBOptions has a hassle free banking service accepting money transfers through all major credit cards as well as net wallets or bank transfers. Deposits made via credit or debit cards or net wallet services are usually executed immediately, while those depositing via bank wire will have to wait for some time until the requests are processed and funds are deposited. It should be noted that the maximum depositing amount when using credit cards is $10000.
Withdrawals are done via the same way that used when depositing. It should be noted that funds that have bonuses cannot be withdrawn before the turnover amount has been reached, while the minimum withdrawal amount is $100.
Multiple currencies are offered for clients to choose from, such as USD, EUR, GBP, CAD , but once a choice is made it cannot be altered.
Education and Trading Tools
One of the strongest features of RBOptions is the education and trading tools that it puts at the disposal of its client, which include daily market reviews and an economic calendar for fundamental analysis. For those preferring technical analysis, a Fibonacci calculator is also provided. The extensive educational resources provided include trade instruction, videos, a binary options eBook, and advanced articles for experienced traders. As already mentioned,  one-on-one training, webinars, and VIP mentorship are also offered but are reserved only for those clients holding the premium account types.
Customer Support
RBOptions also prides itself of its high standard, reliable, prompt and friendly customer support includes contact options through toll free phone numbers in several countries, as well as e-mail and live chat.Live chat and phone support is available 24/7 and is said to be incredibly friendly and helpful. Local toll free phone numbers are available for traders in the US, the UK, Canada, Sweden, Singapore and Australia.
Conclusion
It would be fair to say that since its initial launching RB Options has definitely travelled a huge distance and it has improved and expanded. It would also be fair to point out that room for improvement still remains and that the benefits and perks for those with slim wallets are not a lot with this broker. However, for those confident, experienced traders that have the funds available to commit and can gain access to the offers and benefits of holding a Broker or VIP account type with this broker, then the trading experience promises to be exceptional, enjoyable and very rewarding.
Open Real Account Free Demo Account