UpDown Signals is a new binary options trading signal provider helping people to make much more efficient and financially viable trades. The service is software-based, meaning it uses algorithms to generate trading entry and exit points on specific asset classes and in specific markets.
The site claims to use an advanced software analysis system which generates trading signals that are then vetted by a group of experienced security traders before they are sent on to subscribers.
The service has been around for many years, with the software system having been in development for almost a decade. So for traders who are reluctant or unwilling to get into the rigmarole of chart analysis.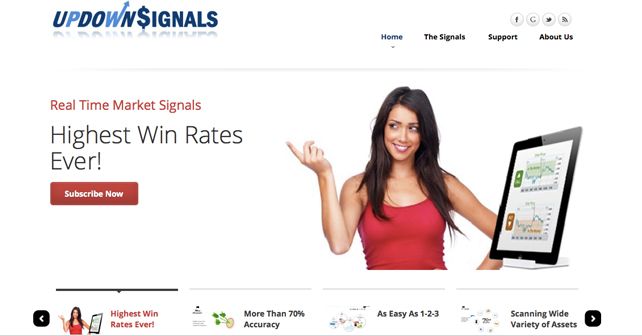 Available Assets
UpDown Signals currently only provide trading signals for three of the four main binary options asset classes. The currently generate signals for currencies, commodities and indices. As yet there are no signals available for individual stocks on their service.
How it Works.
UpDown Signals deliver their trading signals via SMS. This, in our opinion is the best way for any signal provider to offer their services as SMS is the quickest and most up to date method. It also enables traders using their brokers' mobile trading apps to capitalise on those trading signals wherever they may find themselves. The company claims that its success rate is upwards of 70%, this can be verified empirically by trying the service out for yourselves.
How Much Does it Cost?
UpDown Signals allows its prospective clients to try out the service before investing the full amount of money in it. If you're interested in trying out the UpDown Signal service all you need to do is pay $4.99 in order to test it out for a week, meaning that for less than a single dollar a day you have the opportunity to take advantage of the same signals that the full subscribers do. If at the end of the week you have found the signals to have a high success rate and to have generally been profitable for you than you can carry on by signing up for the full service. This full service costs $97 dollars per month. You can make payments to UpDown signals via PayPal, Skrill and all major credit and debit cards. Profitability
UpDown Signals Offer the Following Signals
The special features of the UpDown Signals service are as follows:
The entry points generated by UpDown Signals are generally for longer expirations than most binary options brokers. The site advertises its services as offering trading signals that are valid for up to three hours after they have been generated. So three hour expirations, are probably the best ones to go for although shorter expirations should also work if locked in close to the time the initial was generated. The company recommends using customisable expirations on the trading platform being used. SpotOption's Option Builder being a perfect match for the types of signals generated by this company.
60 day money back guarantee if you are not completely satisfied with the service. This is a good indication of the confidence the company has that you will not want your money back and that you will be returning.
Customer Support
You can contact the UpDown Signals team via the Contact Us page on the company's website or by emailing them [email protected].
Conclusion.
UpDown Signals is another solid binary options trading signal service which covers all the bases and has a high success rate, the cheap cost of its trial as well as the volume of trading signals generated makes it a very attractive prospect for binary traders of all budgets.